How to measure the leak voltage
Maintenance / Troubleshooting / Application Examples

How to measure the leak voltage
---
How to measure the leak voltage
1. Insert the power plug of the soldering iron to be tested into the receptacle on the HAKKO FG-101.



2. Wait until the temperature of the soldering tip reaches the setting.

3. Press the SELECT button to change the mode display to "mV".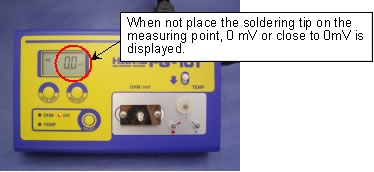 4. Press the AUTO ZERO button and wait until the display returns to normal status.
The correction value generated by the AUTO ZERO function is recorded in the main unit. It remains in the memory even when the power is turned OFF, and is valid also in the next measurement.



5. Clean the soldering tip and put fresh solder on it.

6. Place a tiny bead of solder in the center of the conduction plate and heat the bead until suitable wettability is obtained.

Place solder in the center of the conduction plate to ensure contact between the soldering tip and the conduction plate.



7. Wait until the displayed value is stable and read it.