Enables human error-free temperature control and traceability of manual soldering process
The combination of FN-1010 and FG-100B optimizes manual soldering by improving traceability and minimizing human error with the use of IoT technology.
"Process control" and "Traceability" can be established through daily manual soldering operation.
Optimization of soldering conditions is now possible based on a variety of information in daily soldering process collected by FN-1010.
・Information to be collected
The following information can be collected by memory chip in T36 series tip and saved in a computer through a soldering station.
Tip shape
Tip serial number
Number of loads
Total time of power supplied
Load sensitivity
Type of solder alloy (Lead-Free / Lead)
Count alarm
Automatic calibration/off-set can be completed once measurement result is sent through infrared.
Human error-free "tip temperature calibration" and "off-set" can be established through daily manual soldering process.
Results of measurement/calibration/off-set can be recorded automatically.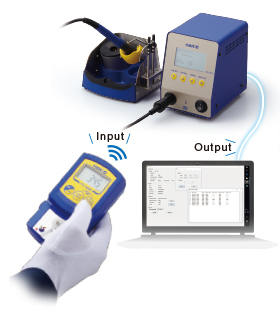 Options for IoT communication
Please choose the options according to the numbers of units and the connection port of PC and server.
* RS232C cannot be connected with some PCs. Please check.
Visualize energy supplied during soldering
It is now possible to visualize invisible energy supplied from T36 series tip during soldering. And that makes it possible to control factors of soldering, which was impossible before.
FN-1010 Soldering Station
Real-time work status on the LCD screen
Improved button operation
Quick access to "Preset temperatures" and "Off-set mode" with one push.
It takes few button operation to access to most frequently used functions.
Notification of alarm with sound and vibration
Alarm can be notified with vibration in a noisy environment.
Free fall detection function
Built-in motion sensor detects free fall and cuts the power.
It can prevent burning floor, a fire and other accident with the heat.
Tip cleaner with solder ball preventive design
Solder ball during tip cleaning can be reduced by 99% with devised cleaner designs such as smaller aperture, and set angle as well as position.
* In-house comparison
Tip replacement without heat resistant pad
FG-100B Thermometer
Eliminate human error in manual recording of measurement result by using FG-100B
Human errors in manual recording process and time for recording can be eliminated by sending measurement result from FG-100B to FN-1010.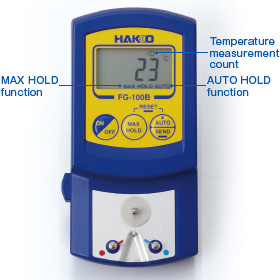 Minimize individual difference in timing of completion of measurement and reading measurement result
[AUTO HOLD function]
It can automatically complete measurement once tip temperature is stabilized.
It can minimize individual differences in the measurement process.
[MAX HOLD function]
It continuously shows max measured tip temperature on the display.
It can be useful for quality control of components and P.W.B.