Tool for Lead and Wire
Tools for conveniently aligning IC leads and for cutting and forming tape components.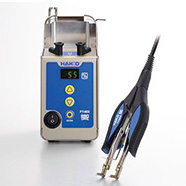 A thermal wire stripper suitable for stripping PTFE insulation without nick.
A variety of hand tools are available, suitable for wire processing and hobbies.
A lineup of non-magnetic stainless steel tweezers ideal for working with electronic parts.