Making the "impossible" possible
Max. Temp. 530°C, Soldering pot with high power
Drastically increased heater power!
A high power heater allows quick start-up and max. temperature of 530°C
High power heater is incorporated 530°C
The time to melt the solder is saved by nearly 60%, compared with the FX-301B.
A high power prevents the temperature of the pot from dropping under continuous operation.
The maximum temperature is 530°C
The dipping time for stripping the enamel coating of coils can be saved with high- temperature settings.
Enable to set at 530°C with 50 × 50 square pot only.
Durable type of pot in three sizes
Durable type of pots with special coating are lined up.
Equipped a 75 × 75 square pot as standard, suited for various works.
A pot can be changed easily to a desirable size, according to works.
Make sure the solder has hardened and cooled enough before changing a pot.
Option
Pot (50 × 50 square)
Pre-equipped
Pot (75 × 75 square)
Option
Pot (100 × 100 square)
unit :(mm)
A highly safe and secure work environment
Solder pot cover
A solder pot cover prevents solder splash while melting the solder.
Stop mode
Display the temperature in the pot even while the heater is off.
Fixing support
Option
Safety design to fix the unit to the workbench.
Fixing screws are separately required.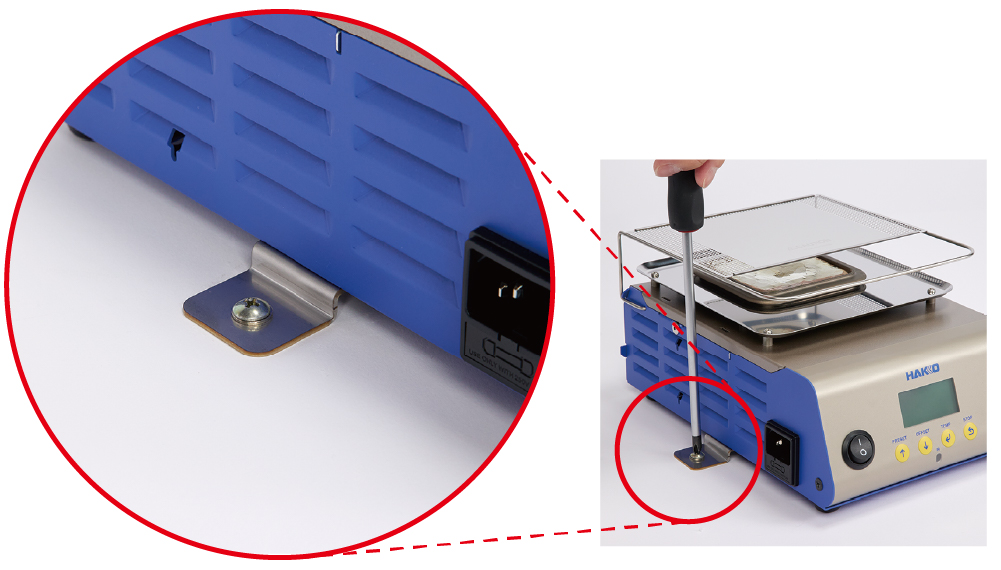 Ultimate convenient functions
LCD shows multiple information
Display information such as setting temperature, pot sensor temperature simultaneously in the wide LCD.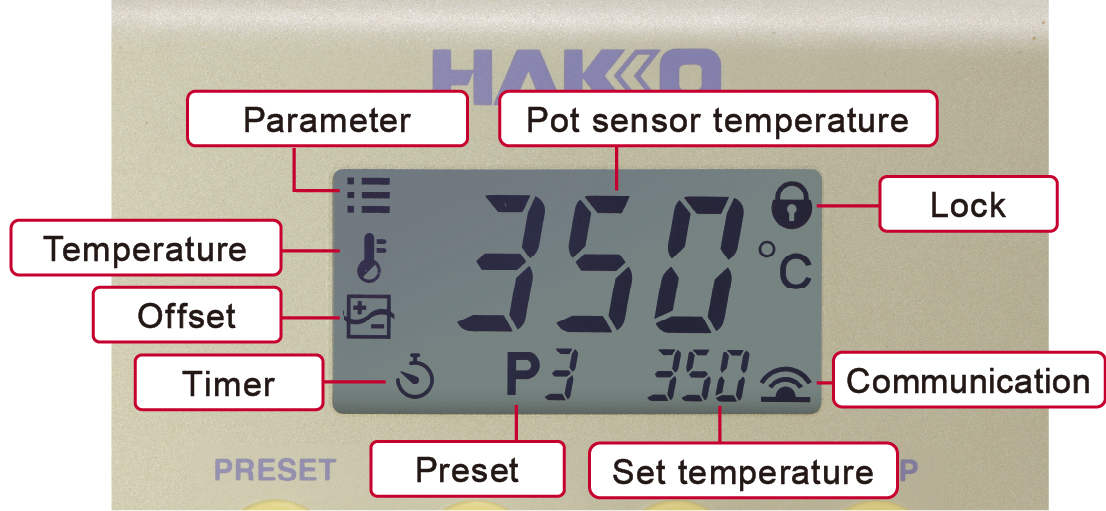 Parameter Settings (Setting of using solder type)
Selecting solder composition enables solder to melt fast.
Sn-Pb
Sn-Ag-Cu
Sn-Cu
Sn

NEW

Sn-Bi
Auto offset / correction
Enable offset / correction the temperature automatically by infrared transmit function of the FG-100B/FG-101B.
Software
Easy operation - various settings and calibration results can be saved by connecting with the PC.
In addition, the PC logs the history of offset and correction, and you can achieve management with no human error.
Temperature probe fixing
Option
The measuring position cannot be stable due to holding the temperature probe by hand.
The optional temperature probe fixing helps to measure the temperature in a stable condition.
The videos for the features of FX-305 are available.
Click here to check out the videos.
Other useful functions
Timer function (Life timer)
It is possible to count the cumulative operating time of the pot with the timer function.
You can use it as a guide to know the timing for pot replacement.
The pot life varies depending on the usage condition.
Solder leak detection function
If solder were to leak from the pot, it would be detected and notify you with an alphabetic error code.
Easy replacement of a heating element
The top of the unit opens wide to replace a heating element easily.
Measure the temperature of the pot after the replacement of the heating element.
If there is a gap with the set temperature, perform temperature offset.