Ideal for Soldering on Micro Components using IH (High-Frequency Induction Heating) Technology under a Microscope
IH micro soldering iron to work with an FX-100
FX-1002 (T35 series tips) makes it much easier to solder on microchips in very fine pitch than FX-1001 (T31 series tips). T35 series tips are designed to obtain not only very fine shape but also sufficient thermal capacity to deliver stable soldering quality on damage sensitive products.
With the FX-1001 (T31 series tips), there is a tendency to interfere with the pin on the right, but now using the FX-1002 (T35 series tips), it is possible to work without interference to the surrounding pins.
Secures field of vision under a microscope with 3mm dia. soldering tip
Slim and light grip design for excellent operability helps precise and micro works.
Antibacterial Sleeve is available in two colors.
The selection of yellow or green colors allows the color-coding.
Tip shapes are identified by color, saving the time needed to check the shapes before work. Identifying the tip shapes by color prevents you from using the wrong tip carelessly. This identification method is especially useful when the shapes are the same but differ in size such as shape-C and shape-CF tips.
FX-100 IH soldering station with an excellent thermal performance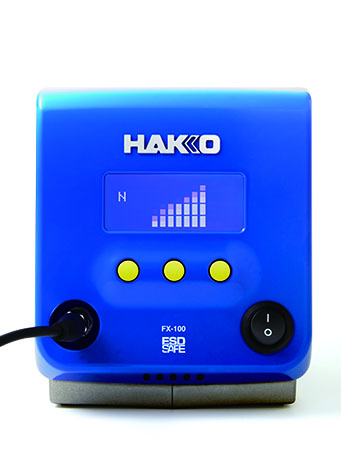 The excellent thermal performance is achieved by the principle of IH (High-Frequency Induction Heating) that directly heats a soldering tip.
The thermal power that does not decline even with a smaller tip is very effective in micro soldering.
No Temperature Setting Required
Tip temperature is fixed by tip series. No setting temperature is required before use.
No Calibration Required
Because there is no heating element, there is no chance of degradation of a heating element, and no calibration is required.
No Overshoot
Because tip temperature is fixed by a physical phenomenon, there is no chance of overshoot.
Unique Features of HAKKO's IH Technology
(PATENTED)
"Power Assist Function" makes HAKKO's IH Soldering Station different.
By monitoring RF output, the station detects tip temperature drop during the soldering process and then increases the output. This function minimizes tip temperature drop and helps the temperature recover quickly. As a result, it can improve soldering efficiency and quality.
"BOOST Mode" for Extra Power
The mode is to boost tip temperature slightly. It can fill out the slight temperature gap among tips and minimize the individual differences in tip temperature. Also it is useful when some extra power is needed.
Please check here for information on IH soldering station FX-100 and IH micro hot tweezers FX-1003.
FX-100 FX-1003