The advanced footwear tester that saves measurement data automatically
Meets the requirement of JIS T 8103 : 2010
Dual Foot Plate
JIS T 8103:2010 requires measurement on each foot.
FG-465 measures anti-static performance of footwear on both feet but individually, and shows the results for each foot.
The divider on the test plate prevents faulty measurement.
Adjustable evaluation range
Evaluation range is adjustable according to required conditions.
The settings can be made by the DIP switches on the back side of the unit.
User-friendly software
FG-465 can work with a PC and comes with the user-friendly software, which can be downloaded for free, to support measurement.
The software enables digital management of all the related measurement information including operator IDs.
Measurement procedure
The software shows measurement procedure.
ID Management
IDs can be input by entering numeric values, reading barcode or IC card.
Personal information can be registered in ID and operator IDs can be recorded as a part of measurement information.
Saves measurement data automatically
Measurement data can be saved as a CSV file in a specified folder.
The data to be saved consists of measurement date, time, operator ID, and result of each foot to improve traceability.
Works as a combo tester
FG-465 can work as a combo tester with FG-470, a wrist strap tester, that makes it possible to conduct measurement, evaluation and recording of both footwear and wrist strap at once.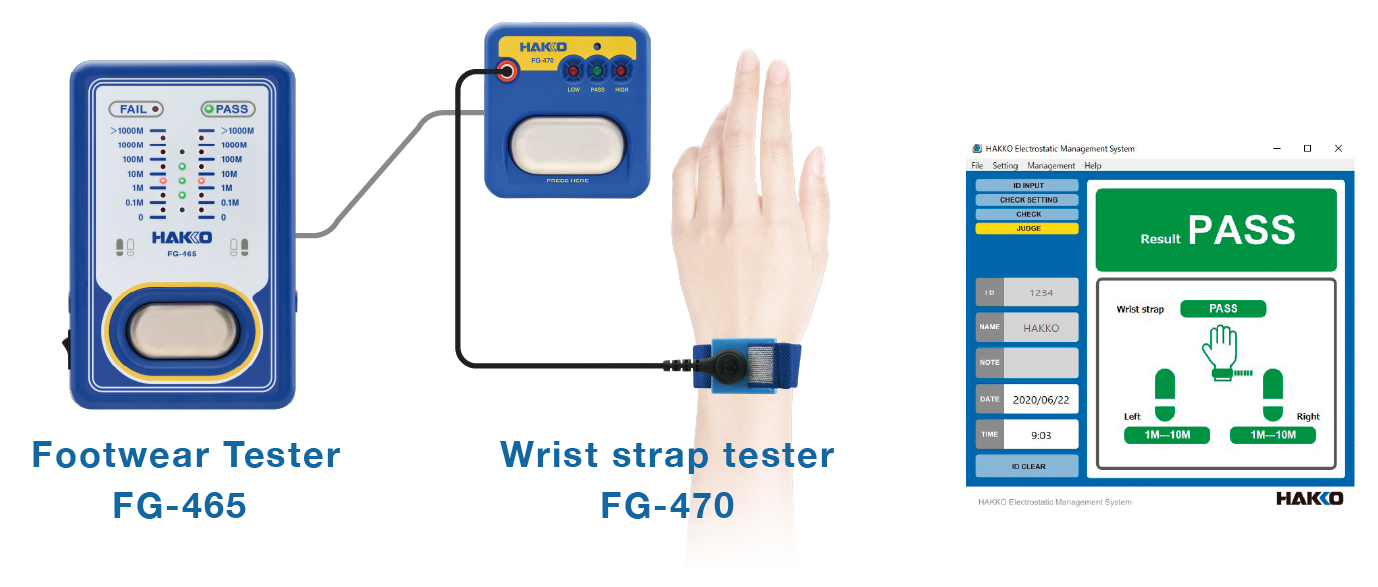 *Click here to enlarge
Evaluation external output
Evaluation result of "PASS" or "FAIL" can be output through the external output terminal to interlock with other devices to display the result.
Simple yet high visibility design
Separate displays of "Evaluation result", "Pass range indicator" and "Level indicator" make it possible to check necessary information at a glance.
Installations
The unit can be installed on a desk and wall. Also it can be attached to an optional stand.
Usage/Applications
Any impact on people with heart conditions, people using cardiac pacemakers or pregnant women?
A small amount of electric current will flow through the human body when using FG-465.
Please do not use FG-465 if having a heart condition or pacemaker.

Users that are pregnant, please consult with the proper medical specialist.